Wire Production Machinery Appraisals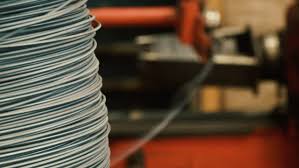 M&E Appraisal Associates, Inc. ("M&EAA") has over 25 years experience providing Wire Production Machinery appraisals.
M&EAA recently appraised the machinery & equipment of a wire products manufacturing company. The appraisal was provided for asset based loan considerations, and concluded under the Orderly Liquidation Value concept.
The subject company specialized in the production of nickel alloy wire & bar, aluminum rod & bar, and other related high end wire products. The subject machinery & equipment was specific to the manufacture of high grade wire products, and is superior to "traditional" wire production equipment.
The primary production equipment included: multiple hole/block wire drawing lines; rod preparation lines; wire down coiler lines and wire down coilers; a multiple strand copper coating line; a continuous wire strand annealing system with annealing furnace; a large capacity wire down coiler system; a large capacity wire shaver system; and "traditional" wire drawing and production machinery & equipment.
The subject wire production equipment was newer, manufactured from 2010 to 2015. The original equipment manufacturers are well recognized names in the wire production industry. This type of more specialized wire production equipment is very expensive to buy new, and used machinery of this type seldom comes up for sale.
It is important to note that most of the production lines are installation intensive. The degree of installation and size of the machines would affect value under a removal based sales scenario. The market for the high end production equipment includes but is not limited to other North American competitors. It is noted that the limited amount of traditional and older wire production equipment would have lesser demand and would most likely be sold to other regional wire producers.
In summary, the primary wire production machinery is newer and has utility in the specific manufacture of high end wire alloys and related products. The replacement cost for this type of equipment is extremely high. The subject machinery & equipment would be very desirable to other end users, and would resultantly have extremely high resale value, even under forced sale conditions.